In the past 15 years I have worked in various design fields where I have developed a broad range of capabilities. My work process involves mixing different techniques; scanned ink and watercolor drawings with digitally-created art. My portfolio is my journal; a testament of the journey I've had so far and a glimpse into my future as a creative. Each project represents a theme on its own, all running parallel and constantly evolving my aesthetic. Each project also represents a small part of my design opus that includes, among the rest, art direction, children's book illustration, fashion illustration, graphic design, fabric pattern design, and home decor design. To view some of my past work please go
here
. I approach each design as a new challenge and with each project I explore a new direction. This website features many personal projects that have helped me push my creative boundaries, fuel my client's work and help me explore digital art in a fresh, sometimes unconventional way. 
I enjoy teaching and sharing the various techniques I've used for creating personal and client's work. To make this process easier for students I have compiled and created "In a Semester" - a collection of tutorial textbooks with accompanying videos that can be accessed at
inasemester.com
.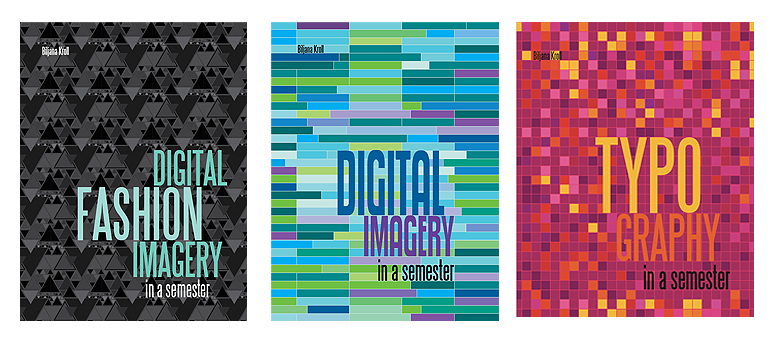 "Digital Imagery in a Semester" introduces graphic design students to the basics of working in the three Adobe programs Photoshop, Illustrator and InDesign. Through step-by-step tutorials featuring screenshots of each step, students learn the basics of creating digital artwork such as vector illustrations and photo collages. The book also introduces the elements and principles of design, working with basic file formats, and using royalty-free images.
"Digital Fashion Imagery in a Semester" is a comprehensive tutorial collection for anyone interested in learning the basics of digital fashion illustration, creating moldboards, fabric pattern design or working with fashion photography.
"Typography in a Semester" provides graphic design students with the basic information about type anatomy and working with type. In addition there is a brief history of typography from the origins of the alphabet through contemporary design. The books also presents examples of different type principles and design do's and don'ts.
As part of my MFA thesis project of exploring the role of digital medium of storytelling, I have designed and illustrated three children's books available in print and as iTunes apps for the iPad.

Printed copies of the storybooks can be found on
Amazon.com